Discover more from The n00unish Newsletter
n00unish is a weekly newsletter sharing insights from n00unsDAO, a multi-chain DAO focused on investing in and building alongside the best of Web3.
n00unish #05
Transparency in building a world class DAO.
Overview
About the newsletter: We believe the best way to predict the future is to create it.
n00uns DAO is an ambitious multi-chain DAO proliferating via the @nounsdao protocol and @y00tsNFT. This newsletter provides updates on what the DAO is building and serves as a bridge of information to introduce Nouns on ETH to the Solana and Polygon ecosystems and vice versa.

Support the DAO ☕️: n00uns DAO formally backed y00ts Coffee in their proliferation of Nouns via our mutual love for coffee. y00ts Coffee is providing directly sourced beans (top 3% in the world) to web3 consumers. Buy coffee today and they will give 25% of revenue to the n00uns DAO treasury.
Thanks for reading The n00unish Newsletter! Subscribe for free to receive new posts and support my work.
① n00uns DAO looks backwards at all it's done.
👥 Author: @bigsbywest
📈 n00uns DAO update
During downtimes in the market it's important to instill confidence in your community. So let's take a moment to reflect on everything the @n00unsDAO has done & will do over the next few months.
Milestones:
1. Our n00under @thedevkev_ is in test net (for polygon the fork) w/ guidance from @nounsdao / @lilnounsda
2. Design & Creation of the @n00unsNFT has begun with @pencilxart finishing 50 n00un 1/1s & another top-tier artist is working on n00uns 51-101.
3. White Paper has been launched and continually iterated on by the DAO.
4. Publishing a bi-weekly Substack newsletter in partnership w/ @Content_Army (@LitecoinYagami, @Feed_SOL, @otaku_1996sol, @Crouserrr, @Java_writes, @cryptolink69, @0xGorgorios & more)
5. Release of the n00uns DAO brand packet "Who Are We"
6. Growth of @solana treasury to $30,000+ USD without any external funding (used to support 1/1 artists, auction development, @y00tscoffee & more).
7. Launched @y00tscoffee with @r3voltcrypto & @tensixcrypto (100% m/m scale). Additionally, a partnership with Nouns on the Ground and oogy NFTs is underway!
8. Piloted & launched the first exclusive partnership with @y00tsb00th to release a B2C platform that allows y00ts nouns holders the ability to upgrade traits to reflect their selected section of the DAO.
9. Launching https://n00uns.com to get holders ready for the auction / polygon launch.
10. Launching an advisory network to help guide holders in their IRL endeavors: career, venture fundraising, VC introductions, go-to market strategies, or anything founders/builders may need lead by @HotRodEth @BigsbyWest.
11. Merch by @n00unsDAO s00n.
Partnerships & Builders who we are building alongside to help proliferate the n00uns.
@xNFT_Backpack (in app chat s00n) @hey_wallet (p2p telegram coming s00n) @FamousFoxFed (citrus coming s00n) @ChapterX_world @ibuildcoolshit (IRL cards for holders) @y00tscoffee (directly sourced) @y00tsb00th (trait upgrades) @WovenNFT (coming s00n).
Public Engagement / Proliferation
Roadmap: What's left to build?
Auction Experience: we are working on a new auction experience (true to the y00ts brand) that takes the current fun of nouns auctions to the next level.
Governance: we are taking the learnings of nounish governance & elevating them through thoughtful adaptations with new twists. (Examples being 1/1 vs generative, a mechanism to know your audience pre-proposal, and multi-chain governance).
& so much more, stay tooned.
Who is behind the @n00unsDAO?
The core team is comprised of individuals who have had long successful careers in their respective fields 6 n00unders & 15 n00uncil members.
②
535 DeGods on Bitcoin are minting today.
👥 Author: DeGods
535 DeGods on Bitcoin are minting this week. For DeLabs, this means increasing exposure to 3 chains. Let's dive into what's happening today - how to mint.
This week, we will be launching a first-of-its-kind minting experience on Bitcoin. 535 DeGods. Public mint. First come, first serve. This is how you can prepare for the mint
500 DeGods will be minted with Bitcoin. DeGod's recommends that you have a self-custody Bitcoin wallet with 0.333+ BTC ready to go. You will also need a separate Ordinals wallet to receive your inscription. The mint will be first come, first serve. More details on the mechanics shortly.
34 DeGods will be auctioned/raffled in $DUST. These will begin 1 day after the BTC mint. The $DUST will not be burned.
100% of the proceeds will be donated to the DustDAO. More info on the DustDAO & nominations will be released post-bridge.
The first BTC DeGod was auctioned in $DUST. This is the original @frankdegods profile picture: the infamous original Frank profile picture, the first DeGod to ever be sent to the incinerator as part of the "Paper Hands Bitch Tax" experiment. It now lives forever on Bitcoin as inscription #77,238. As the saying goes, what is dead may never die.
It was won by S◎L Big Brain
They are working closely with @LuxorTechTeam to ensure the mint is simple & secure.
https://btc.degods.com/ or explore collection: https://www.ordinalhub.com/collection/degods
How it works
Submit a self-custody Taproot Bitcoin address to receive inscription

Submit a backup self-custody refund address

Generate a unique payment address

Send bitcoin to the payment address to lock in your submission
③
VC & Founder Landscape (pendulum swings)
👥 Author: @nftomics
The Flywheel of Hype or "Growth, Growth, Growth" period in VC has come to a close in 2023. How should Founders/FTFs position themselves to LPs in this environment?
Crypto founder Friendly Guide
Power Law Dynamics in the Market
In a bull market the VCs are fighting for access to the best deals with expensive valuations & short turn around times.

In the bear market the founders find themselves struggling to raise given last years valuations.
For the past three years founders have set the tone when it comes to speed of fundraising, terms of rounds, and allocation to a selective group of LPs. A reality that has been driven by FOMO and down-stream investors moving quickly, with little to no due diligence in order to speed up the process & win deals.
Then we saw the great reset of public valuations & the departure of crossover investors who were enlarging valuations across the board.
Average Valuations 2020-2022
Stocks 35x to 8x-10x (EV/RR)

Late Stage (C-D) $350m to $250m

Early Stage (A-B) $80m to $140m

Seed - $8m to $22m

Pre-Seed - $2.5m to $5m
Remember crossover investors, who drove most of the liquidity in recent years, are largely depleted or gone.
VCs take their cues from public comps – those are the exit prices

Liquidity has left the venture ecosystem

Many firms are frozen while awaiting clarity
The interesting reality is that although late-stage valuations have reset, average early-stage valuations have increased substantially. (2020-2022)
So, valuations are increasing but investment activity is slumping?
This is why founders are having a difficult time raising at the earliest stages.
They raised 20-22 valuations & now are competing for allocations against today's 2023 valuations.

LPs are applying pressure to investors to slow down allocations given the macro environment.
Yet, dry powder is at all-time highs, so what can you do as a founder to raise capital?
Clean up ur company to get ready for pitching, minimize ur burn, optimize for 24 months of runway.

Put capital to work in your best performing funnels (growth).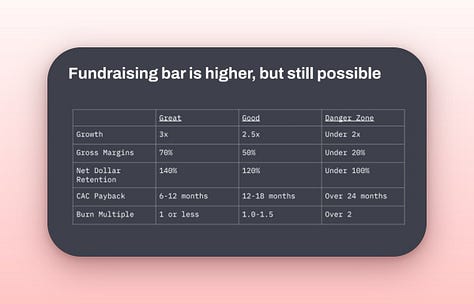 What to do as a founder continued: Fundraising Advice
Get a group of advisors who can help with intros, and strategic operational advice.

Consider an extension round to give you more runway.

Consider raising from angels if VCs aren't responding.

Reach out to first time funds or syndicates.
Your pitch is 99% of fundraising, it is a game of shots on goal.
You'll need to be able to clearly articulate your vision (weave a story), explain how your differentiated & uniquely gated against competitors. Lastly, be prepared to answer tough questions around burn/spend.
④ Nouns DAO Recap




[02/27/23 - 03/12/23]
👥 Author: @blues_content
Proposal Overview
Proposal 240 - Nounish Dataverse, open source data
37 For, 90 against, 63 abstain → Defeated.
Total asking amount: 117 ETH

Proposal 241 - Functional Props (Take 2)
107 For, 128 against, 0 abstain → Defeated.
Total asking amount: 38 ETH

Proposal 242 - House of Nouns v2 (revised)
187 For, 46 against, 11 abstain → Executed.
Total asking amount: 95 ETH

Proposal 245 - Nouns: A Movie
243 For, 2 against, 1 abstain → Executed.
Total asking amount: 115 ETH
Summary of the DAO Funds
1 ETH = $1700.00 At the time of writing this.

Total amount brought into the DAO from the daily auctions → 391.27 ETH, which amounts to $665,159.00

Total amount spent to fund proposals to the DAO → 210 ETH, which amounts to $357,000.00

Total votes casted → 574 For, 266 Against, 75 Abstain → 915 in total, across 4 proposals.
Diving into

Proposal 241

-
House of Nouns v2 (revised)
House of Nouns v2 was a resubmission of proposal 223, although this version had taken into account feedback from initial proposal, and explained some aspects in more depth. In turn, this was the third iteration of a proposal regarding the House of Nouns, they had previously submitted a proposal prior to 241 & 223, being proposal 186, which had received 45 votes for and 102 against.
Thanks for reading The n00unish Newsletter! Subscribe for free to receive new posts and support my work.